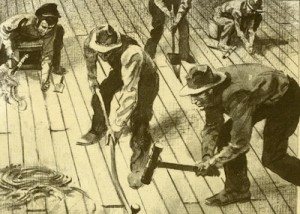 Necessity is the mother of invention, as they say. In ancient times, boat builders would pack fibers, reeds and pitch into cracks between the planks of their boats to seal water leaks. I invented PolarDam five years ago because data center operators needed a low-cost, simple, flexible and safe method for sealing a wide variety of air gaps to improve cooling efficiency.
Over the years, we've enjoyed hearing stories about how operators sealed air gaps prior to using PolarDam, and here are a few of the more entertaining examples:
Software. Yes, software. The data center was once home to countless software packages (CDs, manuals, etc.) for enterprise desktop support. Since all those boxes were just sitting around—and about the right size (5″ x 7″)—facilities managers used them to block off cable openings in empty racks.
Foam peanuts. Inventive? Yes. Fire safe? No. We don't know the whole story of how they were held in place, but they were called out by the fire marshal as not fire safe, so they had to go. The site manager replaced them with fire safe PolarDam air dam foam.
Cardboard. This is no surprise given its ubiquity except for the obvious fire danger. In haste to achieve energy savings, this operator overlooked the potential to actually accelerate a possible fire by packing kindling throughout his data center.
Rags. This is an odd example because there's no reason to suspect the data center operator already had quantities of rags on hand, so they must have intentionally purchased a large quantity of new clean rags to plug air gaps. Probably not as bad as cardboard or software but certainly not up to code. PolarDam to the rescue again.
Packing foam. Think about that pink packing foam that protects new-in-box computers and servers. Now imagine you're supposed to wedge pieces of this rigid foam into air gaps of different shapes and sizes. It sounds like a nightmare, maybe even punishment, but definitely awkward and inefficient. Clearly not "the right tool for the job."
Wood. Scraps of wood. If I didn't hear this myself, I'm not sure I would believe it. Is there any good use for wood in the data center? How does one fashion a custom wood block "air dam" on site without multiple cuts and resulting saw dust? If I hadn't invented PolarDam, I think I'd sooner recommend fiber, reeds and pitch.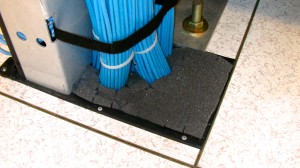 No need to seal air gaps with rubbish or other flammable materials, PolarDam seals your large and small air gaps, no tools required, and it's fire safe.
Send us your entertaining "stop gap" stories from the days before you used PolarDam air dam foam: marketing@polargy.com